The Illuminati Supper hosted by Satan, the Devil himself with The Four Oligarchs as guests.
Nothing to show. Except a fuckin' line of the table. My way to start a draw is often abysmal and clueless but I always find a way to do it. At least, I've found the title, The Illuminati Supper (May 21, 2021)
TURNING POINT?
While I was drawing the above future Artwork. I was asking myself, why did I bust my ass for several hours on a single Artwork when any of the 10 T-Shirt designs I do daily can sell over and over again for minimal effort. An Artwork takes hours to create while a design takes a couple of minutes to do. Plus the endless hours required to put your Brand in front of people who might be interested by your work. Meanwhile, mass uploading designs on Print-On-Demand (POD) platforms will generate daily royalties without requiring any marketing effort nor customer service from your part. So why wasting my time on creating real Artwork?
Should I stop working on Satans Schlongs The Art of PYGOD aka this website and my Artworks? So I could create and upload 20 designs a day instead of "just" 10? 8 hours of uploading a day instead of 4? And after that, what else? What else to do?
THE ANSWER.
Then I've clicked on SatansSchlongs.com, seen some of my collages on the home page. Wow! So beautiful! I'm in love with my Artworks! Nothing is more beautiful than my Artworks.!
I realized that I needed these two other vocations to fill my life. I need to do my 10 designs a day in about 4 hours as my daily occupation. Then, I can't wait to work on this website, the marketing stuff, and create new Artworks. Without my Art, I'm lost, bored and empty.
MONEY vs. Art. I need Art.
(2021, May 22-23)
This draw is turning well after a very rocky start. Each Artwork is a challenge, drawing things and postures that I've never draw before. I'm always asking myself how the fuck will I do it. But I always find a way to pull it off.
I could have done a lot more today but I was distracted by a very good movie, in which Jamie Foxx was POTUS… Anyway, I will need to use a ruler for this Artwork. Which is very unusual from me, since I insist on keeping my Art as pure as possible. Free hand, no bullshit!
It seem that our Four Oligarchs have company… I create on the seat of my chair. I'm still thinking about what will be on the walls. Will the tablecloth be blood red? Will I had new characters? Will there be some more exotic appetizers presented on the table? I like the way it turned out to be.
As you can see, barely anything was added today. More thinking and research about the hidden meaning of elements to be added. Not sure about the ceiling ala The Last Supper?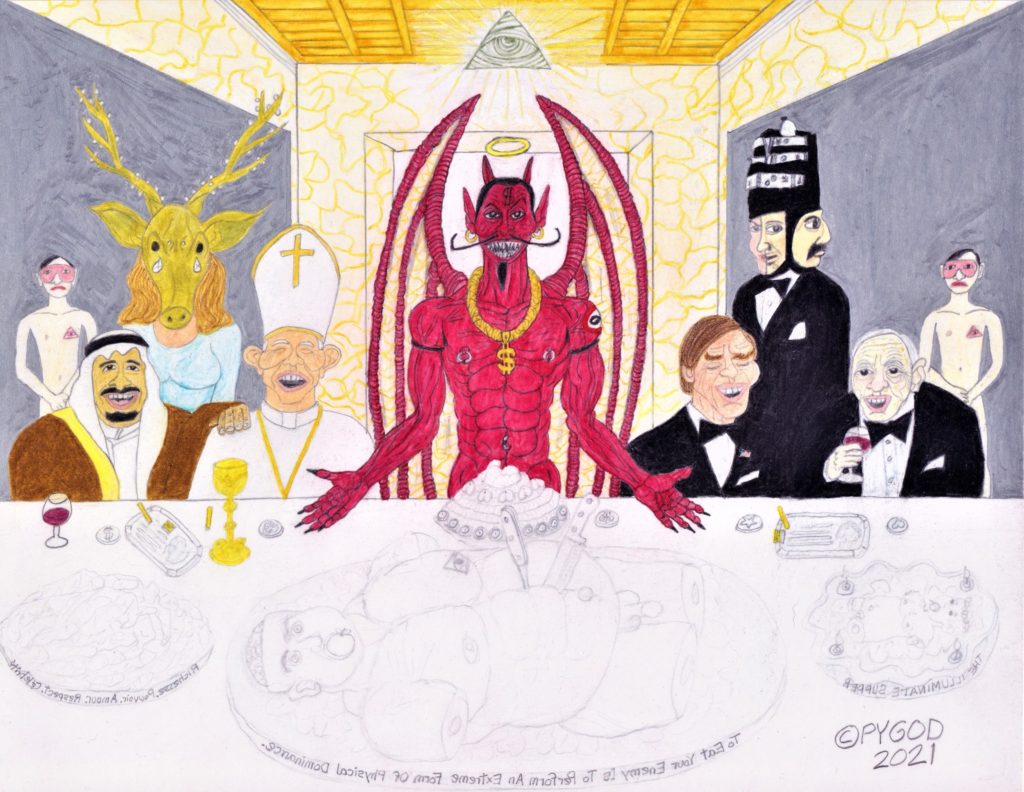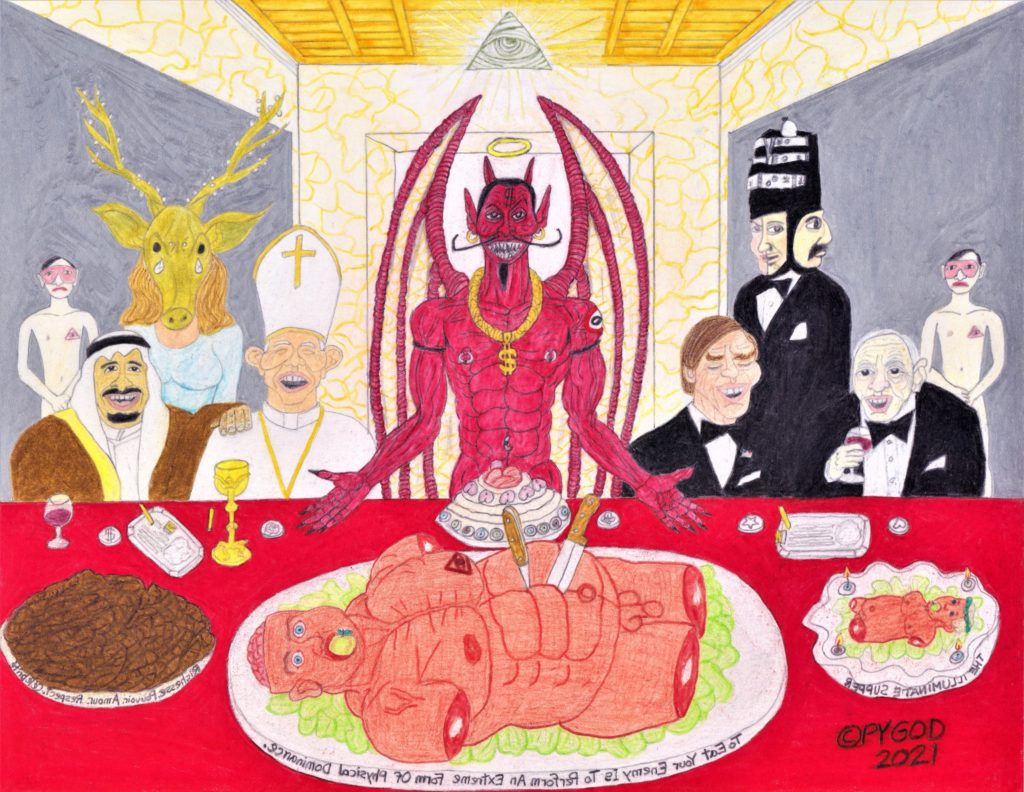 The Illuminati Supper is as you can guess, my version of The Last Supper from Leonardo da Vinci. Here, The Four Oligarchs are the guests of Satan, the devil himself, for a cannibal feast. Cocaine trays, young boys, a plate of shit, our Illuminati Oligarchs have everything required to celebrate their World Domination literally eating their enemies…
To eat your enemy is to perform an extreme form of physical dominance.